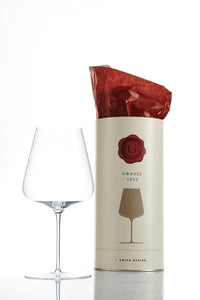 The Grassl 1855 is a homage to the Exposition Universelle de Paris where the famous Bordeaux 1855 Classification was drawn up.
This shape is designed for reds of great complexity, concentration and body. The design of the bowl provides the wine with the space it needs to evolve. We would recommend using this glass for Bordeaux, Syrah/Shiraz, Rioja, Super Tuscans, Californian reds and mature Red Burgundy (say 10 years or older).
For those who have used Zalto Bordeaux, you will see a close resemblance here!
Makes a great gift for a wine lover.
Price stated is for ONE stem. Comes in a gift box.
Wine Style: Full-Bodied or medium bodied mature Pinot/Red Burg

Height: 230 mm

Diameter: 110 mm

Volume: 760 ml