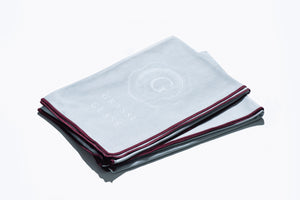 A fine polishing cloth by Grassl. Smooth satin feel. Lovely Burgundy coloured trimmings.
Must have for ALL owners of handmade glasses.
In case you do not know what is the difference between normal microfibre cloth and glass polishing cloth...the difference is the SIZE. Glass polishing cloth are designed such that they are large enough for you to hold the glass with one end of cloth and polish with the other hand. i.e. no finger print marks.
Price stated is for ONE piece of polishing cloth. Please regard the photo which is for illustration only!
Packaging: Clear plastic wrapper
Dimensions
: 560 x 600 mm