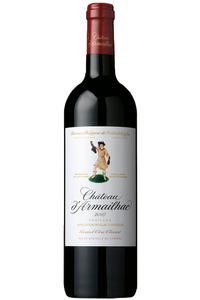 Drank this over dinner with some Bordeaux lovers in early 2021. Superb balance - all in place - fruit, supple/refine tannins and lovely aromatics.
A real delight now but will keep for the next 5 to 10 years depending on your preference for complexity.
An excellent Pauillac AOC wine in a great vintage. Still available now but won't be easy to find few years down the road! We highly recommend you to cellar a few bottles of this.
For those who are new to D'Armailhac, they are owned by Baron Philippe of the First Growth Mouton Rothschild family. D'Armailhac is a Fifth Growth in the 1855 Bordeaux Classification.
Blend: 60% Cabernet Sauvignon, 23% Merlot, 15% Cabernet Franc and 2% Petit Verdot