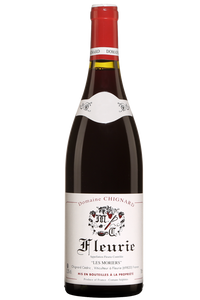 We found Domaine Chignard after reading about the top 5 most promising producers now in Cru Beaujolais. Having visited and tasted the wines with Cedric Chignard, we find that his wines are really traditional in style and a great expression of their terroirs. Don't miss this single vineyard Les Moriers.
Les Moriers (also the vineyard name) is indeed a terroir wine in the sense that it does have characteristics of both Fleurie and Moulin A Vent as it is situated at the border between them. This is an appealing wine with red fruits, hint of black berries and earthiness (in a good way - complexity) and minerality. Medium bodied, lovely balance and lively. Great on its own or with simple finger food or fast food! If you are after a delightful wine for the afternoon, look not further!
Rated 93 by James Suckling:
'Plenty of fruit and stone character with wonderful minerality yet round tannins and ripe fruit. Already very balanced. Richness and freshness in check.'
Food Pairing: Most hawker food such as chicken rice, fast food such as KFC or Macs or on its own. Best for the afternoons or Saturday lunches.
Variety: Gamay
Country: France
Region: Fleurie, Beaujolais
Alcohol: 12.5%
Cedric Chignard who took over his father in 2014.