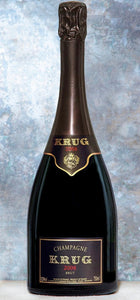 This will be one of the iconic Krug vintages! Extremely hard to get even a single bottle! Rated JS100, WS99, Decanter 97, Wine Enthusiast 97, WA 94.  One for the collector in you...we recommend the drinking window to be 2028 onwards....
'Due to the excellent and balanced cool climate of 2008, the grapes could take their time to mature in tranquillity, ultimately exhibiting beautiful freshness upon harvest. Surprisingly, despite these mild and constant conditions, we observed great heterogeneity from plot to plot. The beauty of this contrast was the inspiration to blend complementary flavours and aromas from different plots including Aÿ, Bouzy and Ambonnay. Krug 2008 is a great classic of the House.' Julie Cavil, Krug's Cellar Master/Winemaker
Krug 2008 is the elegant and intense story of a cool and balanced year, which the Krug tasting panel has nicknamed "Timeless Elegance". The unexpected diversity of the grape varieties is illustrated by great complexity, and they noted a very wide spectrum of flavours and aromas during the harvests. For the final blend, Krug's Cellar Master selected wines that reflected all the complexity of 2008, in a remarkably structured composition imbued with the elegance of that year. After spending 12 years in Krug's cellars, it was launched in the end of 2021. Krug 2008 has become yet more expressive, offering a remarkable profile that is both precise and harmonious.
Tasting notes
At first sight, Krug 2008 has a bright, intense golden colour. It is expressive, rich and generous on the nose, with burnished aromas of honey, liquorice, menthol, orange and grapefruit peel. Lively, intense and harmonious with a wonderful tension on the palate, notes of quince, candied fruit and citrus, yellow kiwi, star fruit, honey, apple tart, petit beurre biscuits, orange peel, peony and fennel, as well as floral and mentholated touches that stand out upon tasting. Finally, the Krug 2008 vintage offers length on the palate, while remaining precise and remarkably structured.