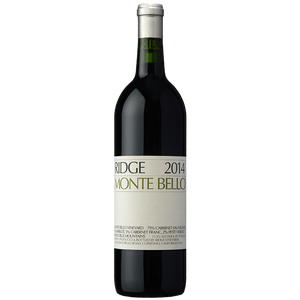 One of Californian's iconic Cabernet Sauvignon wines - Ridge Monte Bello!
Monte Bello is first and foremost a wine of place! That place – high atop the Santa Cruz Mountains underlain by decomposing limestone and Franciscan rock – produces a wine unlike any other. This exceptional vineyard has very low-yielding vines (less than 35 hl/ha which is Grand Cru Burgundy standard!) which are capable of creating a wine of great significance, depth, complexity and aging potential!
Another fact: The Monte Bello vineyard is located only approx 25km from the Pacific Ocean, is part of the Santa Cruz Mountains AVA, California's coolest cabernet producing area!! It is also about 400m to 800m in altitude which explains the cool micro-climate! 
Check out this video: (must watch!)
Monte Bello has often been called America's First Growth, as it is the finest domestic example of a classic Bordeaux blend in which cabernet sauvignon predominates.
If you like Bordeaux blend, you must try this iconic Californian Cabernet Sauvignon blend. This will also make a perfect wine gift for a wine connoisseur friend! :) 
Blend: 75% Cabernet Sauvignon, 18% Merlot, 5% Cabernet Franc, 2% Petit Verdot
Region: Santa Cruz Mountains, California
Alcohol: 13.5% (this is a great indicator that it harvested optimally, not over ripe which a common problem in New World region)
2016 vintage:
96-98+ points - The Wine Advocate
98 points - Vinous
97 points - Jeb Dunnuck
96 points - Wine Spectator
2014 vintage (6 litres bottle - Imperial format):
98 Points – James Suckling, JamesSuckling.com
97 Points – William Kelley, The Wine Advocate
97 Points – Jeb Dunnuck, JebDunnuck.com
96 Points – Antonio Galloni, Vinous Media
Lastly, if you read up to here, you ought to be rewarded! We have a very special format of 6 litres bottle (imperial format as they called it in Bordeaux) of this Ridge Montebello 2014. Price is SGD 2,800 inclusive of free delivery. Only 2 available.