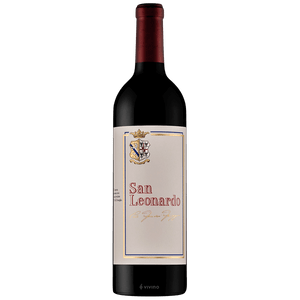 Tasted in Jan 2022, we were really impressed with this 2014 San Leonardo which is a Bordeaux blend (Cabernet Sauvignon blend). Those who follow us know we like wines with good acid structure because they are simply better with food! Perhaps, a little biased because we simply love the Alto-Adige region. :) A beautiful region....pretty much unlike rest of Italy....some of them speak German here! At the Austrian border.
Sadly 2014 vintage has sold out but we have 2013 on offer:
'The flagship wine from this celebrated Trentino estate was not produced in 2012. We do have the stunning 2013 San Leonardo on the market now. This vintage is large in scale and has immediate intensity, and I am somewhat surprised by the volume and seamless bouquet that appears this early in the game. This vintage shows balanced ripeness with plummy fruit aromas that are carefully contrasted against spice, leather and fine tobacco. The blend is Cabernet Sauvignon, Carmenère and Merlot, and San Leonardo is always aged in barrique for four years (of which only 25% of the barrels are new). This is a bottle to keep long (extra long) in your cellar.' The Wine Advocate 96 points!
"…one of the great wines of Italy… Sassicaia and San Leonardo seem like brothers separated in childhood." The Wine Advocate
"Surely the most successful Bordeaux blend of Northern Italy" 
Jancis Robinson, August 2012
San Leonardo's outstanding Bordeaux blend has received 'Tre Bicchiere' (3-glasses - top awards) from Gambero Rosso for an extraordinary fourteen vintages consecutively and was also numbered among the Guide's 'Fifty Wines which changed Italy'!. 
From one of Cellartracker's members:
'Some Italians call this wine the "Sassicaia of the North". Smells like fresh forest, fern, minerals, but also lavender, red current and spices. Medium-bodied, very subtle and complex, elegant, pleasant and different. Will certainly improve over the next five or so years.' 
Region: Alto-Adige (northern Italy)
Country: Italy
Alcohol: 13% 
If you have read up to here, as usual, our readers will be rewarded. We have a limited number of magnums of 2014 vintage of San Leonardo. If you are keen, please WhatsApp us at 8828 0278. Price is $300 per magnum inclusive of FREE DELIVERY.