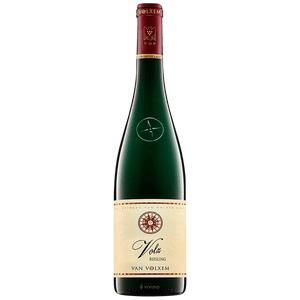 Tasty fresh lemon-peach combo with underlying minerality. Off-dry, vibrant and medium bodied. Such a lovely drink that you can easily finish a bottle between two on its own! Highly recommended even for those new to Riesling. 
Volz is a Grand Cru vineyard in the Saar Valley (now collectively called Mosel region).
In the Prussian classification of vine locations in 1868, this vineyard, bordering the Scharzhofberg (Germany's most famous Grand Cru Riesling vineyard), was classified as a Grand Cru, in the privileged location class. The 60-year-old vines of this glorious slate slope create an exciting firework display of mineral expressiveness and the finest fruity elegance.
Food Pairing: Teochew Braised Duck (could take the chilli oil too!) Its low ish alcohol makes it a great wine for chiili-based/spicy dishes. Sze Chuan steamboat would be a delight too.
Region: Saar Valley, Germany
Alcohol: 12%
Volz Grand Cru vineyard