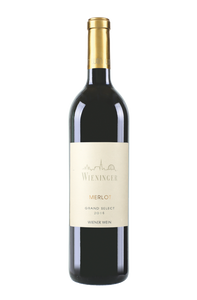 Grown on the warmest site in Vienna, the single vineyard - Jungenberg, the Grand Select Merlot shows blackberry jam and red cherries with chocolate naunces. Full bodied with ripe and smooth tannins. Those who love big wines will enjoy this. Best to decant it before drinking. Please drink it with a nice steak or lamb chops. Drink now till 2030.
Food Pairing: Grilled steak or lamb chops or grilled leg of lamb
 Variety: Merlot
Country: Austria
Region: Vienna
Wieninger's vineyards are just on the outskirt of the fine city of Vienna!
Fritz Wieninger and his wife.