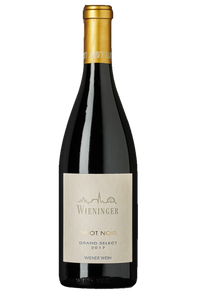 New arrival from Wieninger, the most famous producer from Vienna, Austria. This is their flagship Pinot Noir. The best grapes from the oldest vineyards are processed and fermented separately, aged in Burgundian barrels and after 20 months they are critically selected and bottled as Pinot Noir Grand Select.  Superb intensity of mixed dark cherries and strawberries. Whilst almost full bodied , the texture of this wine make it the most elegant red wine in their portfolio. This wine is certified biodynamic.
Food Pairing: Rack of lamb , grassfeed ribeye (inline with the biodynamic/organic principle)  or suckling pig. i.e. food with good flavour intensity for a complementary pairing.
 
Variety: Pinot Noir
Country: Austria
Region: Wien (Vienna)
Wieninger's vineyards are just in the outskirts of Vienna, one of the finest cities in the world.
Fritz Wieninger and his wife.