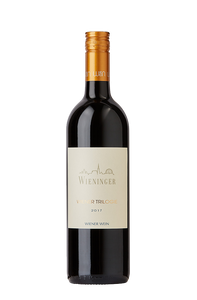 This is a superb value wine that you must try. Great balance of dark fruits and tannins, fresh and delicious.  We love this. Can drink in the afternoon or even on its own. 
The grapes of the Wiener Trilogy (Wiener means Vienna's) come exclusively from the vineyards in Bisamberg region. The soils here consist of light, sandy loess on solid limestone base. The many hours of sunshine, the steady wind and the relatively low rainfall, in addition the great drainage properties of the sandy soils make the Bisamberg an excellent red wine region.
Trilogy because this is a blend of about 65% Zweigelt, 20% Cabernet Sauvignon and 15% Merlot. About 20% new wood on average. The barriques lie in Wieninger's the 16th century underground cellar for about 20 months before bottling.
Screwcap closure. Biodynamic and organic certified.
Country: Austria
Region: Vienna
Alcohol: 13%
Food Pairing: Should do well with your casual food such as Pizza or tomato based pasta or roast chicken.